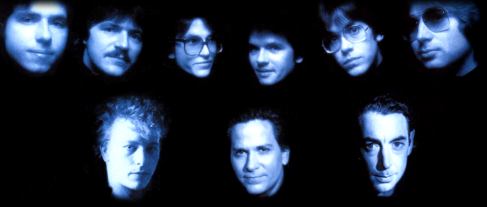 (Top) Steve Lukather, Bobby Kimball, Steve Porcaro, David Hungate, Jeff Porcaro, David Paich
(Bottom) Joseph Williams, Mike Porcaro, Simon Phillips
Toto was formed in Los Angeles in 1978 by David Paich, Steve Lukather, Bobby Kimball, Steve Porcaro, David Hungate, and Jeff Porcaro.
The band members had met in high school and at studio sessions in the 1970s, when they became some of the busiest session musicians in the music business. Paich, Hungate, and Jeff Porcaro wrote songs for and performed on Silk Degrees, the multi-million-selling 1976 album that combined pop, rock, and disco elements into a slick combination which heavily influenced mainstream pop music.
Toto released its self-titled debut album in October 1978, and it hit the Top Ten, sold two-million copies, and spawned the gold Top Ten single "Hold the Line." The gold-selling Hydra and Turn Back were less successful, but Toto IV was a multi-platinum Top Ten hit, featuring the number-one hit "Africa" and the Top Tens "Rosanna" and "I Won't Hold You Back." At the 1982 Grammys, "Rosanna" won awards for Record of the Year, Best Pop Vocal Performance, and Best Instrumental Arrangement With Vocal; and Toto IV won awards for Album of the Year, Best Engineered Recording, and Best Producer (the group).
In 1984, a third Porcaro brother, Mike, joined the group on bass, replacing Hungate. Then lead singer Kimball quit and was replaced by Dennis "Fergie" Frederiksen.
Toto's fifth album, Isolation, went gold, but was a commercial disappointment. Frederiksen was replaced by Joseph Williams, the son of the conductor/composer John Williams, for Fahrenheit.
Steve Porcaro quit in 1988, prior to the release of The Seventh One. In 1990, Jean-Michel Byron replaced Williams for the new recordings on Past to Present 1977-1990, then left, as Lukather became the group's lead singer.
Jeff Porcaro died of a heart attack in 1992, but was featured on the group's next album, Kingdom of Desire. By this time, Toto was far more popular in Japan and Europe than at home. The group added British drummer Simon Phillips. Tambu, released in Europe in the late fall of 1995, appeared in the U.S. in June 1996. For 1999's Mindfields, Bobby Kimball returned to the lineup after a 15-year absence. The group members continued to do session work during the band's tenure, contributing significantly to the sound of mainstream pop/rock in the 1970s, '80s, and '90s.
by William Ruhlmann ©AMG
Summarize by Steven Chang-Lin Yu